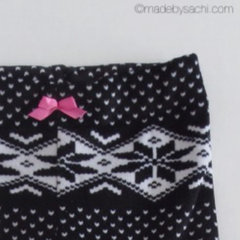 I made a pair of leggings for my daughter using a pair I bought for myself.  
The original pair had some problem I could not live with, but I loved its fabric so much that I decided to keep them to use as material for another pair for my daughter.  
近くのドラッグストアでレギンスを買ってのですが、どうしても譲れない欠点があるのに気付いて返品しようかとも思ったのですが、生地が気に入ったので娘のレギンスに作り変えることにしました。
I bought the pair of leggings from a nearby drugstore.  They were folded and wrapped in a cardboard band, so I could not see the whole deal before I bought them.  The second I opened the package at home, the problem was obvious--- terrible pattern matching!! The big borders did not match at all---or rather, it was as if the person was trying to connect a snowflake border to a dot border on purpose.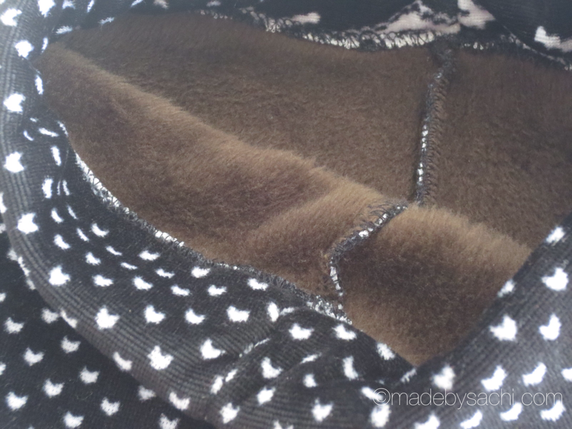 The fabric had the really cute pattern and warm, furry backside, so I thought it was worth remaking it to something else.  So I just made a smaller pair of leggings, this time trying to match the borders as much as possible.  I was so focused on matching borders horizontally, and I actually forgot about matching the snowflake patterns in the center front and back. 
luckily, the center front doesn't look THAT bad---though of course, not anything close to acceptable if I was actually trying to match... (and the center back is worse.)  But what's done is done, and the problem areas were mostly hidden anyway when my daughter dresses up in her whole winter gear.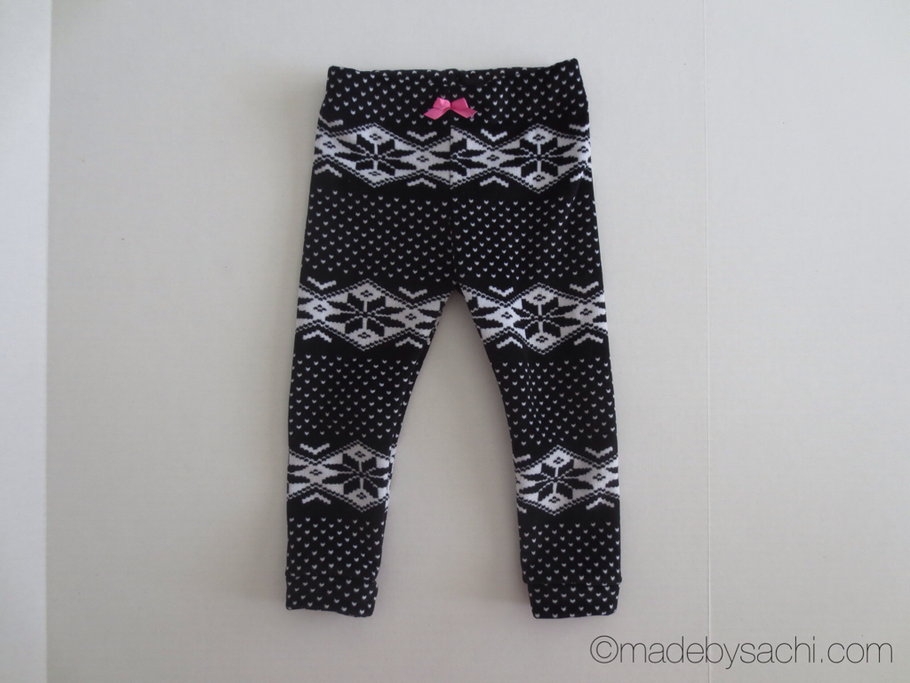 Fabric: poly knit with furry back
Pattern: from a Japanese sewing book: "Mainichi kiru onnanokofuku" by Yuuki Katagai
Size: 100
Pattern modification: since the fabric was thick, I used one size bigger and shortened the legs.  
お店で大人用のレギンスを買った時はボール紙の帯がついていて、全体が見られない状態でした。帰って開けてみると、雪の結晶柄のボーダーとドット柄のボーダーの柄あわせがとんでもなくチグハグ!これは気持ち悪くて着られない・・・と思い、返品しようかとも思ったのですが、あまりに触り心地の良い生地だったので、娘のレギンスに作り変えることにしました。
よこのボーダーを合わせるのにばかり集中して、実はセンターの柄あわせをすっかり忘れていました!一生の不覚・・・!でもシャツを上にかぶせれば見えないし、娘は喜んで着ているのでよしとします・・・
型紙は片貝夕起さんの「まいにち着る女の子服」から。
You might also like...
---