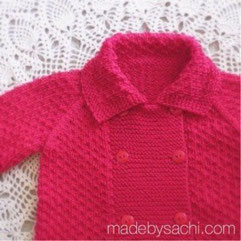 I finished knitting a cardigan for my daughter.  Was it worth it?? We'll see.... but it sure is cute!  Maybe it was worth it becuase just looking at it makes me smile...
9ヶ月の娘にカーデガンを編みました。どんどん成長しているのでどれくらい着られるかわかりませんが(涙)、小さくて可愛いので、見てるだけでニヤニヤしてしまいます・・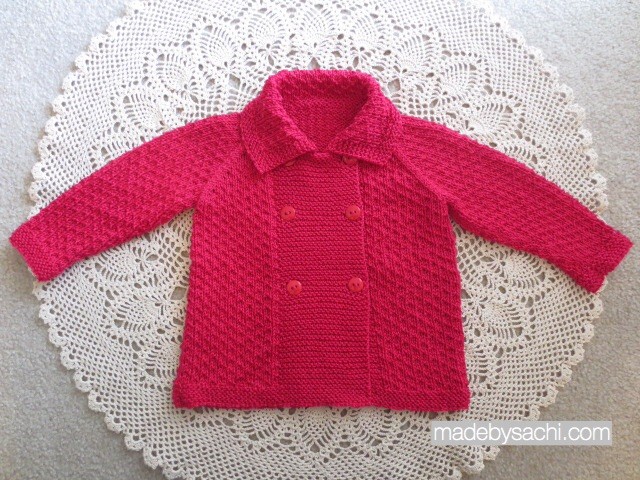 The pattern is 'Comfrey' Pram Suit from Vintage Knits for Babies by Rita Taylor, and the yarn is 100% cotton and my husband's souvenir from his home country.  I believe I specifically asked for "neutral color" yarns, and he said he understood what that meant...  Nevertheless, I'm glad he chose this color, because it really suits our daughter.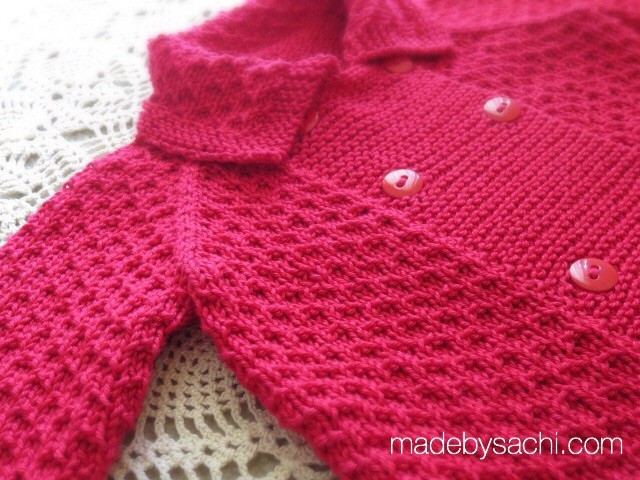 This Cardigan is getting a lot more wear than I expected.  Since the yarn is 100% cotton, our daughter loves wearing it.   I initially thought the collar would bother her, but it is on the contrary.  the collar looks really cute and doubles as a protector from tags on outer layers, seat belts, or any kind of shoulder straps babies are to wear anywhere they go.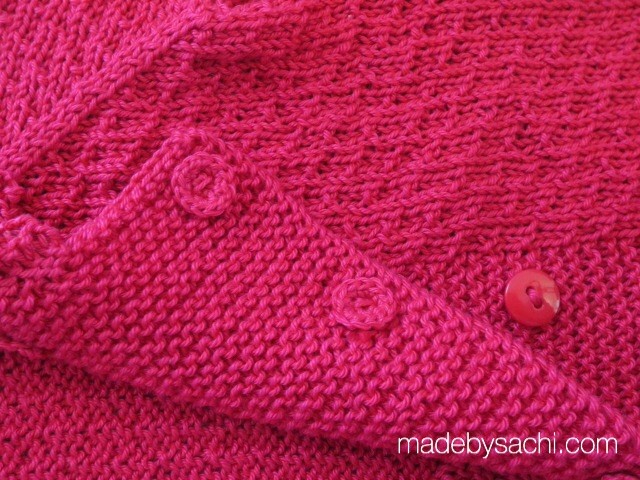 When attaching the buttons, I experimented with some technique I saw on Pinterest (where else?).  I couldn't find any tutorials, but it looked quite self-explanatory, so I winged it. How I did it;  
Start with single-crocheting 6 stitches into a circle.

Double the number to 12 stitches in the next raw.

Shape the crochet circle by pulling the both ends.

Bring the yarn to the center using a yarn needle.

Using the 2 ends now coming out from the center, attach a button on the right side of 

the

 garment.  The crocheted circle acts as "stopper" on the wrong side.
I consider myself an intermediate knitter, having completed several "big projects" like men and women's sweaters (but not complicated designs), and I think this baby cardigan was a pretty easy project. The texture is lovely, but is a surprisingly easy pattern of knit & purl repeats.  
The only thing I would change about this cardigan is the actual buttons.  The color matched perfectly and that's why I bought these , but they were tad too small and thin.  Now that the button holes are stretched out as almost always happens to knitted button holes, I'm constantly re-buttoning the front of her cardigan.  I'm now contemplating if it's worth going to a store, looking for new buttons, and actually changing them, as our daughter rapidly grows out of it...
You might also like...
---